Discover Sofia
Discover Sofia: "It Grows but Does not Age"
Sofia (София)
Discover Sofia as the capital of Bulgaria. It is also the biggest city in the country with about 2.0 million citizens (including suburbs). Today, Sofia is a dynamic Eastern European capital, distinguished by its unique combination of European and Communist-style architecture as well as many beautiful orthodox churches. Furthermore, it claims to be one of the few European capitals with beautiful scenery and a developed ski-resort so close to it – the Vitosha mountain.
Culture
It is the cultural, historical, geographical, and economic centre of the country. Population of Sofia Recently the population of Sofia is growing due to people coming from the other cities and villages.
Sofia was founded around 2,500 years ago. Over the centuries, it has been given several names – Serdica , Sredetz and the remains of the old cities can still be viewed today. Because of its strategic place in the middle of Balkans for a while it had been selected for a new capital of Roman Empire.
The decline of Sofia during the Turkish Ottoman Empire was followed by the rejuvenation after the Russian liberation in 1878, when Sofia was chosen as the capital of Bulgaria at the First National Constituent Assembly, and followed by a brisk and straight-forward period of construction.
Unique architecture
This city distinguishes itself from the other Bulgarian cities by its unique architecture. The centre of Sofia follows the style of radially round lay-out, while the outskirts have rectangular structure. The Church of St. Sophia is considered the most well-known historical masterpiece.
Near Sofia lies Boyana church, which is one of the most valuable memorials of Bulgarian and European culture. The church has frescoes, acclaimed by specialists as "the best examples of eastern medieval art during its twelve century history".
Symbols of Sofia
One of the symbols of Sofia is the cathedral church of Alexander Nevsky. It was built to show gratitude of Bulgarian people towards two hundreds of Russian soldiers who died during the Russo-Turkish war. The construction started in 1882, it continued from 1904 till 1912. This glorious building represents a basilica with elements of Byzantine and Oriental style. The square surrounding the church is also beautiful; here one can find the Tomb of the Unknown Soldier with eternal flame and a market in the open air.
The church of St. Sophia adjoins the square.
It is this church that gave the name to the city. In the church they keep the lock of hair of the Apostle of Freedom Vasil Levsky. Behind the church there is the tomb of Ivan Vazov, the patriarch of Bulgarian literature, and in front of the church at the beginning of a public garden there stands a monument to the poet.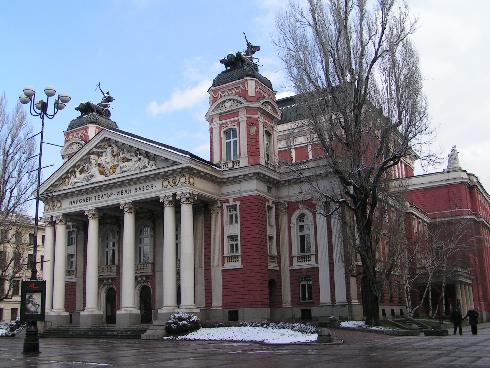 Another symbolic building of the capital is the National Theatre named after Ivan Vazov. The theatre was founded in 1904, and the construction was completed in 1907. The building performed by the style of German classicism includes the elements of the Secession style, which was popular at the times. The interior design was subject to renovation two times – after the fire in 1923 and within the period between 1970 and 1976. Auditorium with two levels has 850 seats.
Education
Here your can find great number of higher education establishments. Here one can find the University named after Kliment Ohridsky and the State Bulgarian Conservatoire.
Museums
Large museums of the capital are: the National Archeological Museum, the National Art Gallery, the Ethnographical Museum, and the Museum of the Bulgarian-Soviet Friendship.
Chill out
The busiest road of the capital is Vitosha boulevard. It is the largest shopping street, greater part of which is turned into pedestrian zone. Here can be found innumerable shops, banks, cafes, and bars.
Mountain on the horizont
Having studied the destinations of Sofia, one can climb the Cherni Vrah Mountain (2,290 m), which is the highest peak of Vitosha Mountains. Cherni Vrah is located at the distance of 20 km to the north from Sofia. In summer the mountain is popular as a place for picnics and walks, and in winter it represents a ski resort. Ski-runs are 1,500 to 2,280 m high; total length of tagged runs is 29 km, while the longest one stretches for 5 km.
Business
Today almost a quarter of the total number of industrial enterprises of the country can be found in Sofia. Particularly developed are: textile industry, metal-processing, machine building, electro technical industry, chemical industry, leather industry, and food-manufacturing industry. In Sofia there come together many transportation routes. Besides, a large international highway Budapest – Belgrade – Sofia – Istanbul runs throught the city. Moreover, the city has its own airport.
Get in Here By:
By plane
Regular Airlines- Terminal 2
Sofia Airport(IATA: SOF) (ICAO: LBSF) is the busiest airport in Bulgaria and it was built around 1930. The new Airport terminal: Termina 2 is now the main active one and was constructed in 2009. The airport is located only 10km from the city center, in the eastern part of Sofia.
Over 25 airlines fly in and out of Sofia Airport with daily flights linking Sofia with Athens, Paris, Vienna, London, Rome, Amsterdam, Munich, Warsaw, and other European cities.
Some of the traditional airlines with flights to/from Sofia are Air France, Alitalia, Austrian Airlines, British Airways, Czech Airlines, LOT, Lufthansa, Olympic Airways, Tarom and Turkish Airlines.
Low Cost Airlines- Terminal 1
Also, low-cost carriers traveling to Bulgaria are EasyJet  (to/from London-Gatwick, Madrid, Manchester), Germanwings (to/from Cologne-Bonn), Wizz Air  (to/from Paris-Beauvais, Barcelona, Brussels-Charleroi, Dortmund, Eindhoven, London-Luton, Milan-Bergamo, Rome-Fiumicino,
Bulgaria Air, the national carrier flies to Alicante, Amsterdam, Athens, Barcelona, Beirut, Berlin – Tegel, Brussels, Bucharest – Otopeni, Frankfurt, Istanbul – Atatürk, Kiev – Boryspil, Larnaca, London – Gatwick, London – Heathrow, Madrid, Málaga, Manchester, Moscow – Sheremetyevo, Palma de Mallorca, Paphos, Paris – Charles de Gaulle, Rome – Fiumicino, Skopje, Tel Aviv, Tirana, Tripoli, Valencia, Vienna, Zürich. Bulgaria Air`s operates domestic flights to Burgas and Varna.
There are a few domestic flights, from Sofia to Varna and Burgas, including some charter flights.
Airlines and terminals
Make sure you check the terminal that you are arriving at or departing from carefully.
Terminal 1 (T1) is used by budget airlines like EasyJet, Germanwings and Wizz Air; and by charter flight operators, while Terminal 2 (T2) handles all 'traditional' carriers, and serves as a hub to Bulgaria Air, the national carrier.
Facilities
Terminal 1 (T1) has postal and banking services, a news stand, two coffee shops and one duty-free shop. On the other hand- Terminal 2 (T2) is larger and has more duty-free shops, three coffee shops with some food offers. Before passport control there is only one coffee shop and a news stand.
Sofia Airport Terminal 2 has one Money exchange Office in the public Area with rates that are acceptable for an airport. There is also an ATM next to it. You can also find small and very expensive Money Exchange Office in the Arrival Area, after Passport Control and before Baggage Claim.
There is a white shuttle bus running every 30 minutes between the two terminals, you should ask at the information about it. There are a few kilometers between the two terminals and they are not in a walking distance. Be aware that even if you decide to walk, you may get lost as the path is not marked and it could take you 20-30 minutes.
Between the airport and the city
By bus:
Public bus line 84 travels to both terminals – the route is T1 -> T2 – Sofia University (metro station). Allow 30 to 40 minutes to reach the city, depending on traffic. You can get tickets from the news stands in both terminals, do not rely on buying tickets from the driver! Please make sure to purchase and punch your ticket after you board. You will need an additional ticket for any large piece of luggage/baggage (larger than 40/40/60 cm). If you forget to buy additional ticket for your large luggage/baggage, the fine is 10lev or €5.
change bust to metro
The best place to change from bus 84 to the metro is Orlov Most (Sofia University metro station). There is also a transit bus line 384, on the route Mladost I metro station > T1 > T2 > Mladost I metro station. It takes only 10 to 15 minutes between Mladost and the airport as the bus makes only a few stops in the airport area. It is very convenient for transfers to Mladost and anywhere close to a metro station. The bus currently (Sept 2011) runs two to three times per hour between 5 and 9 am and 4 and 8 pm. The schedule can be seen here (only in Bulgarian).
By shuttle:
Various companies run shuttle services to the hotel and back. These can be found at the airport arrival halls.
By taxi:
Taxis in the airport are "regulated" and there is only one company, that is allowed to service the airport :"OK Taxi. The fare to the city center should be about 10-15 leva. Unfortunately there are many touts that will try to ask you if you need a taxi as you exit the departures area. These guys will seriously overcharge you.
where to find authorized taxi company
When you exit the customs/declarations door, turn to your right (both terminals). You will see an office for OK Taxis in front of you. They speak English so the best thing is to give the person your destination. They will check it and then print out a slip with your taxi number on it. This saves having to explain to the taxi driver! The taxis are out the doors to your right. Go through these and a taxi controller will point you to your taxi. To reassure you, you'll usually see a queue of "OK" taxis lined up with "O.K. (973 2121)" written on them in blue writing with the two dots in red.
Don`t trust on people offering taxi services in the hall
However, if you go straight out to the roadway rather than right, there are unregulated taxis. You should be careful, because there are taxis, which imitate the logo of the O.K. and the phone number. Before hiring a taxi look at the right-front-door window – there should be a tariff. The normal tariffs are: initial fee (about 2.00 lv), daily price per km (about 0.70 lv), night price per km (about 0.90 lv), price per minute of stay (about 0.20 lv), price for ordering a taxi via phone (about 2.00 lv).
By bus
The Central Bus Station (Centralna Avtogara/Централна автогара) is located near the city center. The website gives a listing of all domestic and international departure & arrival times and costs. Bear in mind that there are three other bus stations for minor destinations.
Many Bulgarian and International bus operators maintain scheduled lines covering all major domestic and European cities, like many cities in Greece and Macedonia, Istanbul (Turkey), Vienna (Austria), Belgrade and Niš (Serbia) and several times a week to different cities in Western Europe all the way to Portugal.
By train
International trains provide a large number of routes to Sofia, arriving from such places as Kiev, Istanbul, Vienna, Belgrade, Bucharest, Moscow and other common cities.
The primary trains from Bucharest to Sofia, and back, run twice daily through the border cities of Giurgiu and Ruse. For example, recent trains are scheduled from Bucharest to Sofia in the daytime departing 12:16/arriving 21:33 and a night train departing 20:04/arriving 06:00. From Sofia to Bucharest there are also two trains: a) Sofia 07:45 – Bucharest 17:19 and b) Sofia 19:30 – Bucharest 05:44. One way ticket is around €25up. Passport control and customs takes place in Giurgiu (RO) and Ruse (BG), approximately mid-trip. Check local train stations for more up to date information. All services are operated by the Bulgarian State Railways , whose schedules are available on the internet in English.
Main railway station
The main railway station (Tsentralna Gara) can be somewhat confusing. Domestic departures go from the main terminal and that is where you can buy tickets for domestic travel. If you want to travel to an international destination, on entering the station from the front, turn to your left, walk past the heated waiting room on your left (and some small shops) and go to the office at the end of the wide corridor with "RILA" on it. It is straight ahead of you. They speak some English and to book a ticket, you will need your passport. They take credit cards.
Platforms
Platforms can be accessed from the main floor down the escalators at the far left corner. Platform numbering is somewhat confusing: Roman numerals indicate the platform number (I to VI), and Arabic numerals (1 to 12) indicate the actual track. Each platform is divided into East and West. Departures and arrivals are indicated on reliable electronic panels, but, beware, they indicate the track number, not the platform! In any case, leaving by train is mostly recommended if you want to travel overnight to destinations on the Black Sea, since trains for Varna and Burgas will leave late in the evening and get you there in the early morning (a couchette to Varna is 16 leva).
By car
Highways
Highways in Bulgaria are often under construction.
Access to Bulgaria's Capital is via several entry points: from
1. North & South via E79/A6
2.  East – via Thrace Highway E80/A1-A3 or from the old road paralelling the E80 Highway – Zlatitza – Pirdop – Pazardzhik route.
3. West – via A1/E80 Liking the city and the Bulgarian-Serbian Border point of Kalotina.
A1 is from Sofia to Burgas
A2 is planned to be from Sofia to Varna, but ends around Pravets and continues from Shumen to Varna.
A3 is planned to be from Varna to Burgas, but currently has only a few kilometers built.
From Greece
Otherwise coming from Greece the road E79/A6 is in very good shape, so the 300 km from Thessaloniki are done fairly fast if you don't happen to fall into Friday/Sunday traffic jams in the area of Sofia or Pernik.
From North Macedonia
Coming from the Republic of North Macedonia, via Kiustendil the roads are relatively good but driving within speed limits would avoid you much hassle caused either by traffic police, or road conditions. From Central Europe you can drive almost the whole length on highways (via Slovenia-Croatia-Serbia or Hungary-Serbia), with only the last 100 km between Niš in Southern Serbia and Sofia being heavily trafficked mountain roads around the Nishava ravine in not the best shape.
Get around
By public transport
Sofia has a well-developed and efficient public transport system that consists of buses, trolleys, trams, subway line. The public transport operates from 5AM to about 12AM. Taxis are the only transport option in the night.
Tickets
The price of a single ticket is 1.60 lev (~ 0.65€) only paid in the local currency. There are also 10 (8.00lv) tickets for one passenger, combined ticket for subway and ground transport (1.40 lv), daily cards (4lv), valid for all lines, and 5-day cards (15lv). Tickets, daily and 5-day cards can be bought at most newspaper stands especially ones adjacent to public transport stops. If you can't find any, you can also buy tickets from the driver if he has any available, though this is not guaranteed. Punch a ticket immediately after you enter the vehicle. The inspectors rarely understand English and you might have problems with the security if you travel without a ticket or even with an unpunched one. Inspectors ambush and board buses and trams in groups, sometimes accompanied by police, and make no exceptions.
If you are traveling by tram with a large suitcase or backpack, be sure to buy a separate ticket for your bag/case or you might be fined!
There are 15 tram lines, 9 trolley lines, 93 bus lines and one metro line. Some of the buses cover the area outside the city center including neighboring villages. Useful routes are bus #84 from both terminals of the airport to the center; from the train/bus station to Orlov most – bus #213 or #214 or tram #1, #7 and #18 to Vitosha Street and Nedelya Square, #1, #6, #7 to the National Palace of Culture, #18 to Slaveykov square or #6 to Macedonia square.
Subway
Currently there are two lines that crosses the city town (Lulin, Obelya to Airport) through the city center to the southeast (Mladost r.d.), where it connects to the airport.
On foot
Streets have adequate tiled pavements, especially in the city centre. However, they are frequently uneven and potholed, and walking is further made difficult by parked cars, street vendors and cafes. Except for areas in the very centre, pavements rarely have slopes for wheelchair access or designated lanes for bicycle riders. Pedestrian crossings are numerous and are relatively respected by drivers. Use pedestrian underpasses to cross large intersections, though avoid ones in the suburbs as these are usually derelict.
By mini-bus
Mini-buses (marshrutki) stop if you just wave a hand and usually are fast way to go somewhere without need to change the car. You pay to the driver when you get on the car. Prices are around 2,00 leva (about 1,0 euro). You need to tell the driver if and when you want to get off.
By taxi
Taxis in Sofia are yellow. Taxis can be caught on the streets or can be ordered by phone, they arrive fast and are reliable. A drive inside Sofia will rarely exceed 15lv and a trip from the airport to the city center between 10 lv and 15 lv. There are many companies offering taxi services, some of them are OK Supertrans taxi (973 2121), €1 Taxi, "962-22-26", Yellow Taxi (91119) and Radio CV Taxi (91263) with reasonable fare.
check before you book
Please check the phone number and the prices before you board, because there are some taxis trying to imitate the most popular ones, but having outrageous prices (up to 5,90 leva (3,00€) per kilometer) on them and usually hang around hotels and tourist spots picking on unsuspecting customers, its the top line for the per km fares and bottom line for time you need to look at. The general rule is that if a taxi driver comes to you and offers you a drive, never accept it because they will try to rip you off.
Rent-a-Car
Renting a car is possible( Autojet team is always on your disposal for making your booking), but not a good idea if you are not used to driving here, or you just want to be in the town of Sofia. Be prepared for traffic jams and disorganized traffic. Car rental is perfect decision if you plan to visit some cities or attractions near Sofia.
Parking in centre is major problem. Be aware of "blue" and "green" zones
Blue Zone- 1302
To park you can use tickets for parking in the so-called Blue Zone (sinya zona/синя зона). These tickets can be purchased from the people wearing bright green jackets, hanging around the parking lots. The tickets should be clearly marked with pen and placed on the dashboard so they are clearly visible. The price is21 leva for 1 hour. The easier and more convenient way however is to SMS the vehicle registration number to "1302" – same for all mobile operators. It will charge your bill with 2 leva. Five minutes before the prepaid time is up you will receive a warning sms. You can either send another message for another hour or move your car.
Blue Zone- 1303
Green zone number is 1303 only from BG phone number. Price of green zone parking is 1 leva per hour. Note that you can stay up to two hours in both parking areas.
important!
Pay attention to this traffic rule: "If a tram, bus or trolley stops and is on your left side of your car you must stop in your lane and behind it, ie. public transportation vehicle should be on your left side and in front of your car." It is because tram rails are in the middle of the road and tram station is on the pavement so passengers of a tram will disembark to the road. Even buses have bus stops in the middle of a road. Failing to stop in such manner may cause you to kill bunch of people who are disembarking from a public transportation vehicle and ensure to you a prolonged stay in Bulgaria, or to be precise Bulgarian prison.
Rent a Bike
Sofia is one of the greenest capitals in Europe, with the big park zones ideal for biking. Slow traffic in downtown is perfect for cycling. On a bike you will save time and will enjoy sport activity. Sofia also has the few bike paths around the downtown area and districts such as Mladost, Nadezhda, Hipodruma. Bike rental operates from 10AM to about 8PM (April to November). Discover Sofia by bike map or joint to an experienced bike guide.
What to See
Sofia is one of the oldest cities in Europe with ruins spread across the city center. It was founded because of the quality of its mineral waters. In the city alone there are 7 independent mineral water springs. One of the springs is in the central area of the city and is accessible for everybody – cross the square behind the mosque, next to TSUM (the intersection of Iskar and Ekzarh Yosif streets).
In the administrative center of Sofia the streets are covered with a specific yellow pavement. It was laid in the beginning of the 20th century and were a present to the Bulgarian Tsar Ferdinand for his wedding from the Austria-Hungarian royal family.
Popular attractions
National Assembly of Bulgaria, 2 Narodno Sabranie Sq
Sofia University, 15 Tsar Osvoboditel Blvd.,
Bulgarian Academy of Sciences, 1 15 November Str.,
Ivan Vazov National Theatre, 5 Dyakon Ignatii Str.,
SS. Cyril and Methodius National Library, 88 Vasil Levski Str.,
National Palace of Culture, 1 Bulgaria Sq- use to be the biggest congress center in the Balkans. If asking for directions, ask for NDK (en-de-ka), as most Bulgarians refer to it by this acronym.
Central Military Club. It`s a multi-purpose monument of culture building in the city center.
Museums
National Museum of Military History,
92 Cherkovna Str., ☎ +359 2 946 18 05 (m.museum@bol.bg, fax: + 359 2 946 18 06). 10.00 to 18.00. ticket price for adults 8 leva (on march-15-2012)
Earth and Man National Museum
4 Cherni Vruh Blvd., ☎ +359 2 865 66 39 (earth.and.man@gmail.com, fax: +359 2 866 14 57) . 10.00 to 18.00. 2 leva.
National Museum of History
16 Vitoshko lale str. (Take trolley #2 southwest from the corner of Praga Blvd. and Patriarch Eftimi Blvd. Get off at the roundabout at the end of the bus line. Cross the busy Okolovrustino Shosse (ring road) and walk through the trees. The museum is not visible from the road, nor are there any signs.), ☎ +359 2 955 42 80; (nim1973@abv.bg, fax: +359 2 955 76 02). The National Museum of History in Sofia contains more than 650,000 exhibits and is one of the largest history museums on the Balkans. The aim of the museum is to provide a comprehensive view on Bulgarian history from the prehistory to present, in as broad an European context as possible. Be prepared to spend several hours as the museum is quite large. About half of the exhibits have English captions. 4 leva.
National Institute of Archaeology and Museum
2 Saborna Str., ☎ +359 2 988 24 06 (aim-bas@aclubcable.com, fax: +359 2 988 24 05). 10:00 to 18:00. ticket price for adults 10 leva (on march-15-2012)
National Literature Museum
138 G. S. Rakovski Str., floor 2, ☎ +359 2 988 24 93.
National Agricultural Museum
30 Suhodolska Str., ☎ +359 2 929 67 53.
National Ecclesiastical History-Archeological Museum
19 Sveta Nedelya Sq., ☎ +359 2 988 13 43. 09:00 to 17:00.
More interesting places
House-Museum of Ivan Vazov, (On the corner of the streets G. Rakovski and Ivan Vazov.).
Museum of Sport, 1A Bulgaria Blvd. (National Stadium Vasil Levski),
Museum of Paleontology and historical geology, 15 Tzar Osvoboditel Blvd. (Inside Sofia University.)
Institute of Ethnology and Folklore Studies with Ethnographic Museum, 6A Moskovska Str.,  . Has a permanent collection of traditional Bulgarian costumes as well as a changing exhibition.
National Polytechnic Museum, 66 Opalchenska Str., 09.00 to 17.00.
National Museum of Natural History, 1, Tzar Osvoboditel Blvd : 10.00 to 18.00. Has four floors of everything from rocks and minerals to insects and stuffed bison. It is a nice way to spend a rainy afternoon.
Galleries
National Gallery for Foreign Art, 1 St. Aleksander Nevsky Square, ☎ +359 2 988 49 22 (ngfa@abv.bg). 11:00 to 18:00. 4 leva.
National Art Gallery, 1 Batenberg Sq., ☎ +359 2 980 00 93. 10:30 to 18:00. Has old Bulgarian art, icons, etc. 4 leva.
Sofia Art Gallery, 1, Gen. Gurko Str. (The entrance is from Kniaz Al. Batenberg Str.), ☎ +359 2 987 21 81. 10:00 to 19:00. free.
Sofia City Art Gallery (Софийска градска художествена галерия), 1 General Gurko St. (ул. Ген. Гурко 1), tel: +359 2 987 2181
Churches
St. Alexander Nevsky Cathedral.
One of the largest orthodox churches worldwide.
Boyana Church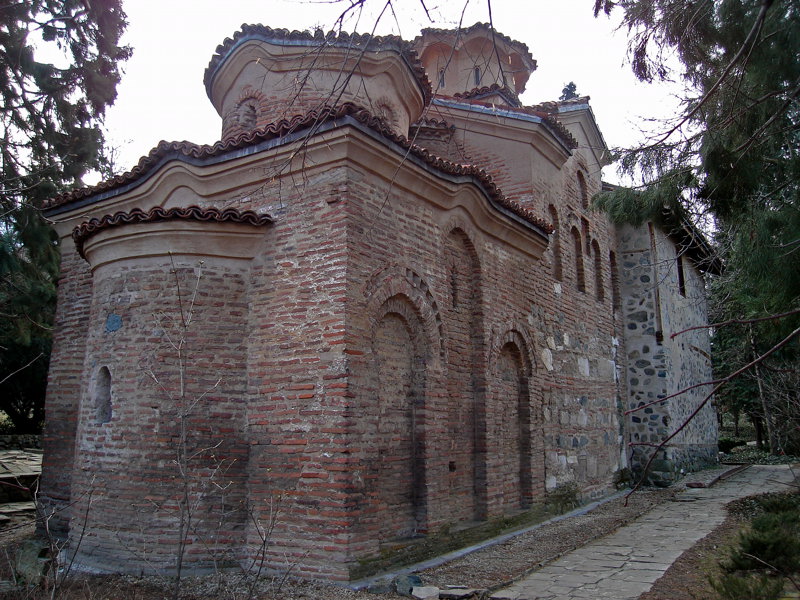 1-3 Boyansko Ezero Str. (Getting here is quite difficult. Take tram #9 or #10 from the stop underneath NDK (National Palace of Culture) to Hladilnika neighborhood (the last stop). Then catch bus #64. The bus stop is just 50 meters away but you better ask someone for directions because there are several different stops in the vicinity. The stop for the church is a small plaza with a few shops near the end of the #64 bus line. Ask the driver or the other passengers where to get off and then walk uphill and turn left.),  09:00 to 17:00. This small 14th-century church and garden is on the UNESCO World Heritage List. The church contains some very well preserved murals. It is located at the foot of Vitosha mountain and is a good starting point for day trips in the mountain. Entrance is 10 Lev.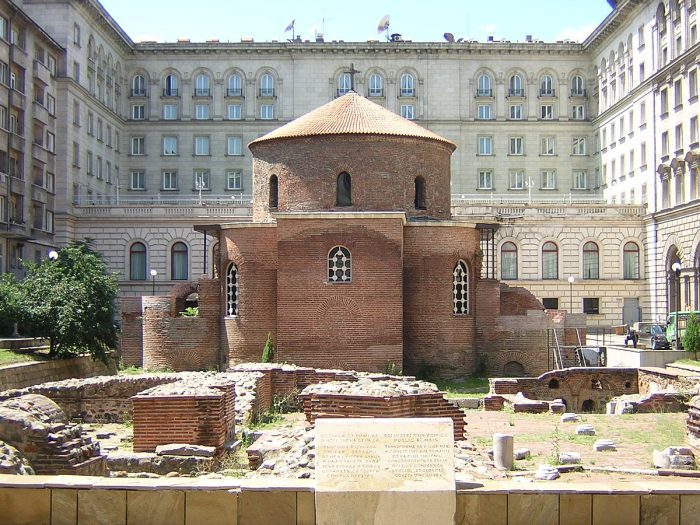 This church is considered as the oldest building of Sofia. It`s situated behind the Sheraton Hotel, amid remains of the ancient town of Serdica.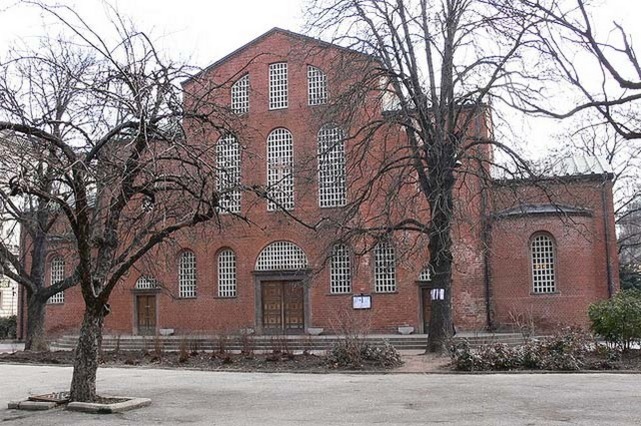 2 Paris str.. It is located just across the square and to the right from the Alexander Nevsky Cathedral. It was built in the 6th century over an even older church. It is a witness of the whole Bulgarian history and is a valued cultural monument. In the 14th century it gave its name to the city of Sofia. It was destroyed several times and during the Ottoman rule it was used as a mosque.
Catholic cathedral St. Joseph
125, Knjaz Boris I (next 2 Sheraton Hotel), ☎ 02/9815548,. Holy Masses: SAT 5,30pm & SUN 10,30am bulgarian; 12,00pm latin; 6pm bulgarian
St. Nicholas Orthodox Church
Other places of worship
Banya Bashi Mosque.
Sofia Synagogue. 09:00 to 16:30. One of the largest in Europe.
Historical buildings
Amphitheatre of Serdica, (Located in the geographical center of the city under the flags of the EU.).
Battenberg Mausoleum. The mausoleum and final resting place of Prince Alexander I of Bulgaria (1857–1893), the first Head of State of modern Bulgaria.
Monument to Vasil Levski. It commemorates the hanging of Bulgarian national hero and major revolutionary figure Vasil Levski in the city on 18 February 1873.
Monument to the Tsar Liberator. Representing the power of freedom and across from it are the National Assembly and the Bulgarian Academy of Sciences.
Monument to the Unknown Soldier. Across from Alexander Nevsky cathedral; on the side of Hagia Sofia's Church.
Knyaz Battenberg's Palace, (Right in front of the city garden.).
Sofia Public Mineral Baths. It is an old building of interest, although it is in process of renovation at the moment.
Open spaces
Borisova gradina. It`s the "lungs" of the city, with the Ariana Lake
City Garden. It`s the oldest and most central public garden, in existence since 1872.
Orlov Most. It`s a bridge over the Perlovska River in the centre of Sofia
Prince Alexander of Battenberg Square.
Petko R. Slaveykov Square, (along Graf Ignatiev Str. , between Solunska Str. and Rakovsky Str.). 0 – 24. A Famous Square, real Sofia center with a monument of writers father and son Slaveykov's. It`s a biggest open-air book market in the Balkans.There are round benches and street musicians act very often.
Patriarch Evtimiy Square.
Sofia Zoo, 1 Sreburna Str. 09:00 to 17:00.
South Park. Yes, and it's not the cartoon series. A nice park in the south-east part of the city, although a bit to crowded on weekends.
What to Do
Cafes and restaurants. Sofia is full of trendy cafes with outdoor seating in the summer and good-quality restaurants.
National Opera and Ballet
Arena Cinema. It`s one of the biggest Bulgarian cinema multiplex. Cinemas in Sofia play all films except children's films in their original language with Bulgarian subtitles.
Sofia Tour
Sofia Bike Tour
Sofia Run Tour
Sofia Hike Tour
Where/What to Buy
Currency
The currency in Bulgaria is the Lev, plural Leva. You will also see the abbreviation lv. (лв.) or the ISO code – BGN. The currency exchange rate is fixed at 1 EUR = 1.95586 BGN. Exchange rate to USD is not fixed directly, but published by the Bulgarian National Bank and is used for a benchmark in the exchange offices and banks.
Currency exchange offices
Currency exchange offices and most banks offer a buy rate of 1.95 BGN and a sell rate of 1.96 BGN to 1 EUR. However, at the airport and train station the rates may differ substantially. During business days, it is strongly advisable to use banks for exchanging money. Although there are some really good exchange stalls giving you up to 1.955BGN/EUR, be aware of those who switch the digits giving you 1.59BGN/EUR. It's also possible to change money 24/7 in casinos where rate is good, but you are required to play even some. ATMs on all major credit car issuers (Visa, Mastercard, Amex, Diner's, etc.) are widely available, although you have to watch for your daily withdrawal limit imposed by your card-issuing bank. Credit cards are widely accepted, but in small souvenir stores or restaurants; you will definitely need to carry some cash.
Souvenirs
Souvenirs can be bought many small shops in the subways in front of the old Party House and in the metro station at the Largo. The Ethnographic Museum has a small shop tightly crammed with souvenirs of all kinds from all over Bulgaria (on the right, just as you enter the main entrance). Antiques and souvenirs can also be found in Alexander Nevski square, in stalls just opposite the church.
Vitosha Boulevard. It`s the main commercial street in the centre of Sofia. It used to known as the most expensive street in Sofia in the past. Now it is home of many restaurants pubs and cafes.
Shopping Centres
The Mall, 115 Tzarigradsko Shousse Blvd. (Many bus lines stop at THE MALL. Choose between bus no. 1, 3, 5, 6, 76, 84, 114, 204, 213, 214, 284, 305, 306, 313 and 604.), . 10:00 to 22:00. a convenience store with large Arena cinema, a lot of cafes and restaurants, etc.
Paradise Mall, (there is subway stop), . 10:00 to 22:00. a convenience store, Largest shopping mall in Bulgaria; large Arena cinema, a lot of cafes and restaurants, etc.
Serdika Mall
Park Centre Sofia- 2 Arsenalski Blvd.
Mall of Sofia, 101, Alexander Stamboliiski Blvd., ,
SkyCity Mall, 52 Kosta Loulchev Str. (You can get there by tram No 20, bus No 9, and Route Taxi No 1, 19 and 21.),  10:00 to 22:00. Also has an entertainment center.
Stay safe
With a car
If you have a car, you are recommended to park it in a paid guarded lot. Parking in the center is difficult; although you can find free spaces, the Bulgarian police tends to behave harshly towards foreign license plates. Even though the other cars appear to be parked legitimately, double check that there are no signs or pavement markings prohibiting it. If you drive out of the city (or enter the country by road) you must have a vignette (винетка) on every high-way. Buy it right away at the border (even though no one will tell you to and there may not be signs) or before leaving Sofia(rental car) from any fuel station or on-line (vinetki.bg). The price is 10 leva for weekend pass. Available are also one week(15BGN), one month(30BGN), three months(54BGN) and one year (97BGN) validity.
Car lights are also compulsory in the light part of the day from November 1st until March 1st; it is best just to drive with them on always.
Pedestrians should be careful since Bulgarian drivers do not yield right of way to those on foot.
Generally at night, you should avoid the area around the Bus and Train Station, Maria Luiza Blvd, the Parks (around the Palace of Culture and Borisova) and the Lions' Bridge (Lavov Most). This is especially true for single women and girls. If your hotel is in the area you'll be alright, just don't hang around it unnecessarily. Try to act like you are familiar with the area  and look like a local. As long as you avoid the poorly lit areas, the centre is really nice, stick to the well-lit areas such as Vitoshka, the Largo, the Sheraton hotel, the Ivan Vazov theater and Voennia Klub (Military Club). It is wise to choose a hotel/hostel in a better location, such as the ones listed above.
Recommendations:
Do not get into conflict with locals especially if they seem aggressive or drunk. Avoid football fan groups, they tend to be drunk and aggressive. Avoid wearing football shirts or scarves of the Sofia-based football teams, especially on match days.
Be careful with taxis, make sure you check the prices first before you get in (the fare is per kilometer and it should be something like 0.70 during the day and 0.90 during the night, avoid cabs that display their fare as above 1.20), also make sure the cab has the driver's card on the front with his name.
Be wary of money exchanges. Some of them exchange money for generally lower rates than displayed on the exchange rate panel. Go to banks, otherwise you can easily become a victim and if you want your money back the security guard might intimidate you, rough you up or physically abuse you.
Be connected

Sofia has a large number of mostly free wireless hotspots in bars, restaurants, and cafés. You may find also in hotels and public areas, like "Park Zaimov". The airport has a free public wireless hotspot for use in Terminals 1 and 2. So does the entire central train station in Sofia.
Short trips with car
If you are staying in Sofia for a couple of days, you can discover some of the beauty of near places or other historical cities.
Vitosha Mountain
Vitosha is a magnificent landmark mountain rising just south of the capital. It is easily accessible by public transportation or by car and day trips in Vitosha in a sunny day are highly recommended. In the winter it is well suited for skiing and its proximity allows one day ski-trips; in the summer it is great for hiking. A great way to spend few days in Sofia, being on its "balcony," enjoying sunny days on the mountain with a spectacular view on the capital. So going to Sofia provide gives you a unique chance to witness the rare symbiosis of the metropolitan city with its nature park.
Rila Monastery
Rila Monastery is the most famous monastery in Bulgaria, situated in the huge Rila Massive. It`s just one hour and a half drive away from Sofia. If you want to visit Rilski Manastir (around 130km from Sofia) car hire from Sofia is the best way. You can choose ether to spent the night there or come back in the same day.
Plovdiv
Plovdiv is the second largest city in Bulgaria. It`s just one hour drive on a good highway away from Sofia. Plovdiv lies around three hills in the otherwise totally flat Thracian plain. It's historical center, Roman remnants & relaxed feeling make it a great day-trip.
Veliko Turnovo
Veliko Turnovo a beautiful city along a winding river, the former capital of Bulgaria in the middle ages. The original city castle and walls are reconstructed. Be sure also to visit nearby Arbanassi.
Monasteries and churches around Sofia
There are also many monasteries around Sofia.
Dear travelers and explorers, we hope this information has been of use for you!
It doesn`t matter where you will go, what you will see as long as you have fun and be safe.
Please, feel free to contact us for any kind of information and arrangements (autojet@rentacar.bg), we will be happy to help any way we can!
Sincerely Yours
Autojet Team